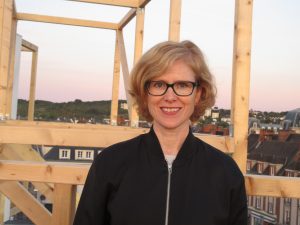 Ah les Veilleurs d'Évreux !!
Quel plaisir !!
Also, what humbling experience – forming this human chain over the town of Évreux.
An intimate and powerful experience at the same time : individual and collective. For me, this is the sixth time I hold watch for "Les Veilleurs " – BELFORT – LAVAL – RENNES – HAGUENEAU – FREUBURG (DE) and now ÉVREUX. But it's always different, always fresh, a new way of looking over the landscape, town and its inhabitants…
Thank you Christian Mousseau-Fernandez, director du Tangram, and all of the team – Thank you to the town of Évreux and the region – Thank you too to my accompagnateur Yannick Mesnil and of course thank you to the 729 other Veilleurs, without whom Les Veilleurs d'Évreux would not be possible.
Les Veilleurs d'Évreux 22 septembre 2017 – 22 septembre 2018 ! Today even more so man in the past feels like a necessary act.

Veille du 6 octobre 2017, 18h22.